Hardwood Floor Installation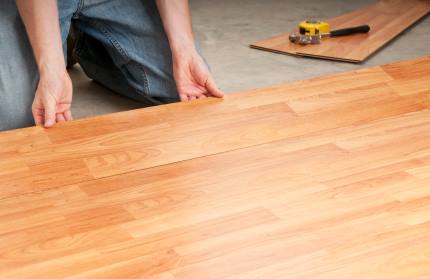 Hardwood floors add warmth, natural beauty, and value to any home. Flooring Services has a wide variety of both natural hardwood and engineered wood flooring. Customize the look of your floor by choosing the stain, gloss level, edge detail, width, and texture to perfectly complement the style of your home. Flooring Services has been in the hardwood floor installation business since 1999. Call (747) 233-0236 for a free, professional quote today.
---
Call for a FREE Quote
---
Flooring Services's Hardwood Floor Installation
Flooring Services hardwood floors are expertly crafted using the finest domestic and exotic hardwoods. Choose from ash, birch, cherry, exotic, hickory, maple, oak, pecan, or walnut. Our solid wood flooring is 100% hardwood milled from lumber. Natural hardwood reacts to humidity and extreme temperature changes by shrinking or expanding. Therefore, it is not recommended for basements or bathrooms. Engineered wood flooring is constructed by gluing layers of wood together. This multi-ply structure makes engineered wood much more stable than solid wood. It is also far less susceptible to humidity and temperature changes. Engineered wood is a great choice for finished basements.
Benefits of Hardwood Floors
All of Flooring Services's hardwood flooring comes pre-finished. Which means there's no dust from sanding, no fumes from chemicals, and no waiting for the finish to dry. Factory-applied urethane finishes are much tougher and last up to 20 years longer than site-applied finishes. Wood flooring is available in narrow plank strips, mixed-width strips, or wide plank strips. For an upscale look, choose parquet squares, which can be arranged in a variety of geometric patterns. We offer a variety of stains to perfectly complement any decor. Further, customize the look of your hardwood floor by choosing a distressed or hand-scraped finish. The character of distressed hardwood gives your floor a naturally aged, rustic look. Hand-scraped floors are contoured to highlight the wood's natural beauty.
Experienced Hardwood Floor Installation
Flooring Services has been installing hardwood floors for 24 years. Call (747) 233-0236 to speak to one of our hardwood flooring specialists. Our professional hardwood floor installers are trained to precisely measure your room so you don't buy more flooring than you need to. We deliver and install your flooring and ensure that all project waste is disposed of properly. Instantly boost the value of your home with the timeless beauty of a hardwood floor, professionally installed by Flooring Services.
---
Call for Fast FREE Quote
---