Wood Floor Refinishing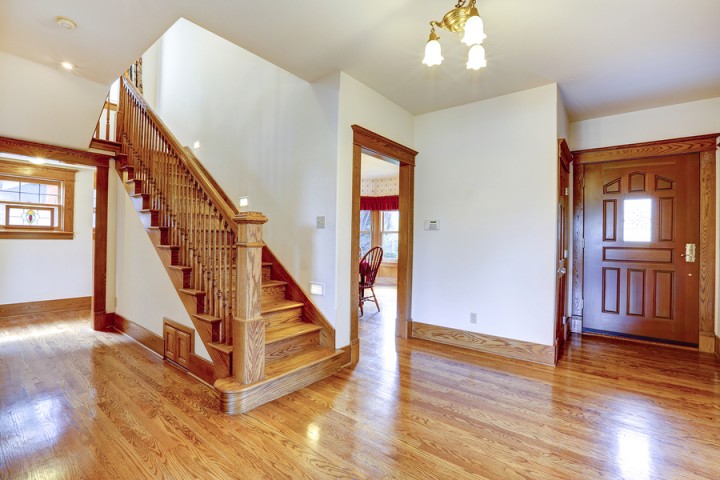 Hardwood floors take a beating. Flooring Services specializes in quality hardwood floor refinishing and has been in business since 1999. Our services include dustless sanding and refinishing, buffing and re-coating, staining, and varnishing. Bring back the natural beauty of your hardwood floors. Call (310) 272-5882 today fora free quote on having your wood floors refinished today.
---
Call for a FREE Quote
---
Wood Floor Refinishing
Get back your shine with Flooring Services's dustless floor refinishing service. We deep clean to remove surface stains and light scratches. Then, we buff and lightly scrub your entire floor. Last, we apply several coats of polyurethane to restore the luster of your hardwood floor.
For floors that need more work, Flooring Services offers a complete floor refinishing service. We start by sanding to remove deep stains and scratches. Next, we deep clean and buff to remove all other stains and scratches. We seal your floor then lightly scrub the entire surface. The last step is to apply several coats of polyurethane to keep your floor looking great for years to come.
Flooring Services's Process for Hardwood Floor Refinishing
Wood floors are covered with a clear protective coating. Over time, that topcoat can get scratched and scuffed. To keep your hardwood floors looking their best, Flooring Services recommends sanding and refinishing every 5 to 7 years. We use a dustless sanding method to remove light scratches and stains. Then, we use a floor buffing tool and a succession of grits to restore the luster to your floor's topcoat. We seal and coat your hardwood floor then apply the wood stain or varnish of your choice. Whether your floors need a little bit of work or heavy-duty refinishing, Flooring Services will make them look brand new. We've been professionally refinishing wood floors for 22 years.
Choose Flooring Services for Floor Refinishing
You don't have to live with dull and scuffed wood floors. Not when refinishing them is as cost-effective and pain-free as Flooring Services makes it. Simply call (310) 272-5882 for a free quote, and let our professionals handle the rest. Why choose Flooring Services? Here are some of our customers' top reasons!
Flooring Services has been professionally refinishing wood floors since 1999.
Your calls and emails will be returned in a timely manner.
All the flooring professionals at Flooring Services are highly skilled and fully insured.
We make your wood floor look brand new.
Pricing is reasonable.
Call (310) 272-5882 now for more information!
---
Call for Fast FREE Quote
---